Top 40 Herbs of North America:
A Guide to Herbal Healing
Do you want to learn how to use herbs for your health and well-being? Do you want to discover the secrets of 40 powerful plants that can heal, nourish, and support your body and mind? Do you want to own a comprehensive and practical book that covers everything from herbal history to recipes to remedies?
If you answered yes to any of these questions, then you need to get your copy of Top 40 Herbs of North America by Angela Harris, a renowned herbalist and educator.
What's Inside the Book?
This book is more than just a list of herbs and their benefits.
It's a treasure trove of herbal wisdom and experience that will inspire and empower you to use herbs in your daily life.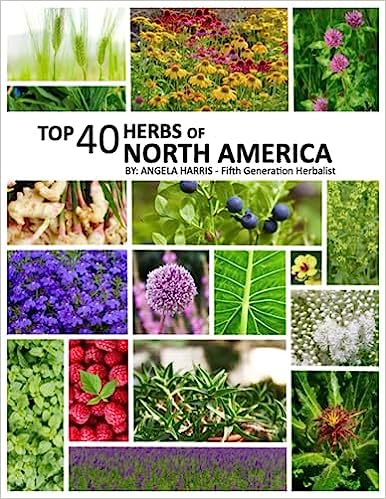 Why Buy The Top 40 Herbs of North America from HerbU?
HerbU is the leading online platform for herbal education and community. We offer courses, workshops, podcasts, blogs, and more on all aspects of herbalism. We are passionate about sharing our knowledge and love of herbs with you.
When you buy the book from HerbU, you will get:
A discounted price of $34.99 (regular price $39.99)

Free shipping within the US

A free downloadable PDF version of the book
How to Order the Book?
Ordering the book from HerbU is easy and secure. Just follow these steps:
Click on the button below that says "Buy Now"
Fill in your name, email address, and shipping details
Choose your payment method 
Confirm your order and wait for your confirmation email
Enjoy your book and start your herbal journey!
Don't Miss This Opportunity!
This book is a must-have for anyone who wants to learn more about herbs and how they can improve your health and happiness. Whether you are a beginner or an expert, you will find something new and useful in this book.
Don't miss this opportunity to get your copy of Top 40 Herbs of North America by Angela Harris. Order now from HerbU and save $5 off the regular price. Plus get free shipping and a free PDF version.